Asus ExpertBook B9450 Asus ExpertBook Review. Is this ASUS laptop really the world's most lightweight 14" business laptop? Is it worth the price?
Asus ExpertBook Review
Appearance-wise, this star black colored 14″ laptop has a magnesium-lithium body that is proven to weigh 30% lighter than laptops that have an aluminum body. Weighs less than 900g (depends on your configuration) and is 14.9mm makes this device super thin and light.
Display
The 14″ NanoEdge display with 4mm thin bezel will impress you, you won't see any other thinner bezel on other laptops. Even though it is not a touchscreen display, the 94% screen-to-body ratio anti-glare full-HD 1080p display gives you vibrant color. This screen-to-body ratio also gives you plenty of rooms in your screen to view, whatever content you have on your screen. The anti-glare protects your eye from getting eye strain after long hours of computer usage.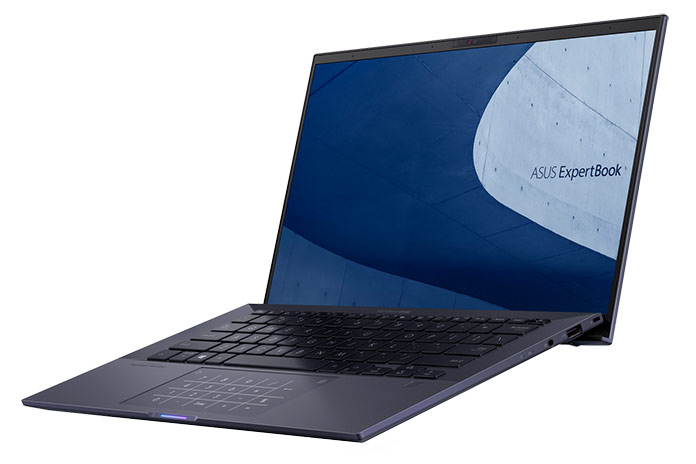 ASUS has been known as a solid notebook manufacturer producing super quality laptops. From their gaming laptops, ultrabooks, and so many kind high-quality products. This Asus ExpertBook B9450 is no different.
People who love to travel doing their business trips or people who want to have a super-powerful portable laptop will love the Asus ExpertBook B9450.

Battery Life
This well-known laptop manufacturer designs this minimalist laptop to have perfection on compact and portability factor. The sturdiness of the device is like no other, supreme durability and mobility.
Note: This B9450 ExpertBook outperforms other business laptops with its 30 hours of battery life
This claim is proven to be true since this Asus ExpertBook B9450 has remarkable long battery life that can reach nearly 30 hours! It's even more than the company's claim, which is 24 hours. Which other computers can achieve longer battery life than its manufacturer's claim? No other laptops can.
Storage
The second highlight of this ExpertBook is the huge amount of storage space, precisely design for long travel. Available with dual M.2 512GB, 1TB, and 2 TB SSD. Many laptops do not have this huge 2TB storage, if they do, it costs you more than 3k USD. Twice the price of this one.
Other than super-long battery life, and its dual large and fast SSD storage, this Asus ExpertBook B9450 comes with an ASUS NumberPad which is specifically designed to improve your productivity on the go. Imagine using your laptop's NumPad on your trackpad as a calculator with your touch gesture?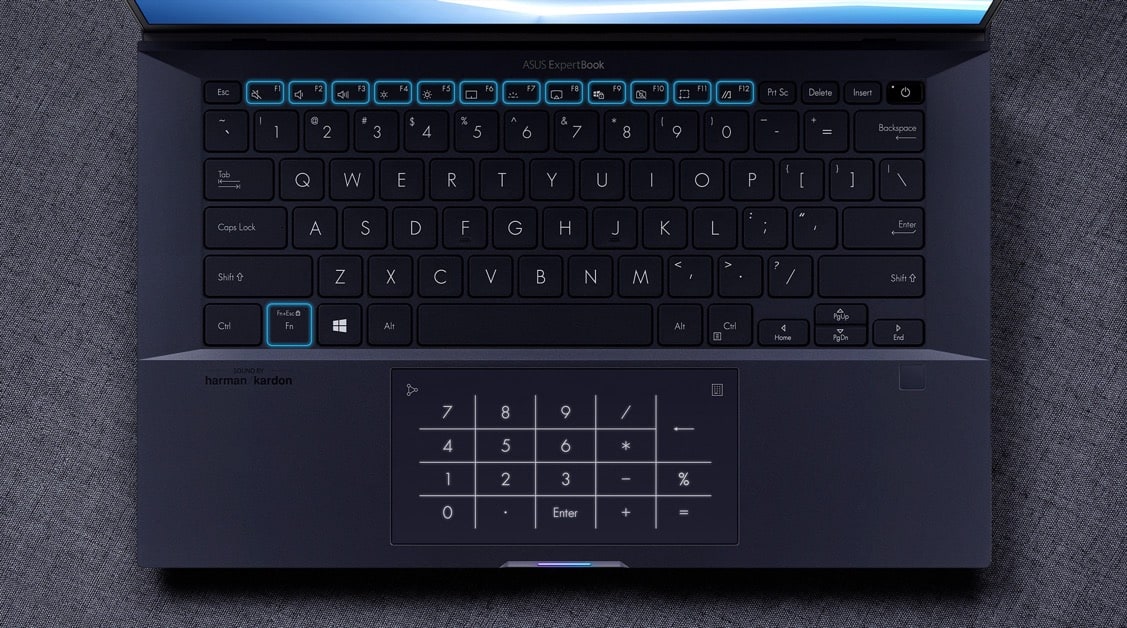 The full list of I/O ports completes the supreme feature lists this Asus ExpertBook B9450 has.
Enterprise-Level Features
Specifically built for business, this Asus ExpertBook B9450 also comes with many security features. It comes the TPM 2.0 (Trusted Platform Module) integrated chip to protect your important data. It also packs with Facial recognition software using Windows Hello feature. Read more on its official web page.
Kensington lock, Fingerprint Sensor are also in the list of security protection. The 720p HD webcam has a shield that you can use to cover your webcam should you need more security or privacy. ASUS Business Manager feature also comes with this laptop to control your USB devices and secure your computer's drive settings.
With these highlight features, this allows the Asus ExpertBook B9450 to be an Enterprise-level of product, designed to stands out in the top list of business laptops category. Exceptionally lightweight, robust, packs with enterprise-level features, it's definitely your perfect on-the-go laptop in the realm of entrepreneurship.

See the ASUS ExpertBook B9450 → VIEW
Asus ExpertBook B9450 Release Date, Price, Buy on Amazon?
In this Asus ExpertBook review, Amazon lists it as below;
It is not known when the release date in the USA or in Amazon specifically was. Amazon is selling them right now. They sell this item under the Asus ExpertBook B9450FA model for about 0.00 0.00 .
Alternatives
For the alternative check out the alternative below. The ThinkPad X1 Carbon from Lenovo on the right even has a touchscreen feature.
Looking for business laptops at 500 USD price ranges and below? Compare these;
Cheaper Alternatives

The bottom line of this ASUS ExpertBook review
If you are a person who travels a lot and looking for a device that has a super-long battery life and extremely large storage space, also an SSD laptop, consider this one. It gives you everything that Apple's computer does, and more, for a far better price.
You will love how thin and light this laptop is, not even 2 pounds (the model that has 33W battery). Charging your battery is super fast, you will get it fully charged in an hour, that fast. And with full charged power, you will have nearly 30 hours of battery life. You will also love how fast the booting time this laptop has. When it arrives, open the box, power your computer, and boot it up, takes only a few seconds.
To end this Asus ExpertBook review, we want to let you know that this Asus ExpertBook B9450 will come with a power adapter and charging cable, the Micro-HDMI to LAN dongle, a protective sleeve, and tons of features that are military-grade. You will really love this Asus ExpertBook B9450 which is exclusively designed to survive long hours traveling journey.